Free Study Guide: Sula by Toni Morrison: Chapter Summary
Previous Page | Table of Contents | Next Page
Downloadable / Printable Version



FREE STUDY NOTES: SULA BY TONI MORRISON


THEMES


Major Theme

The major theme of the novel is the question of right versus wrong or good versus bad; but the conventional ideas of good and evil are turned upside in Sula. Throughout the book, Sula is judged to be bad by the society that surrounds her, while Nel is thought to be the picture of goodness; as a result, Sula sees herself as evil, while Nel judges herself to be good. At the end of the novel, however, Nel reveals that she has an evil heart, while Sula's heart is really much purer.


Minor Themes

The novel explores the importance of the presence or absence of family and friends. Sula hurts greatly from the lack of attention she receives from her mother; in contrast, Nel feels somewhat smothered by Helene and determines she will not become like her. In truth, both girls turn out just like their mothers. The importance of friendship is also explored through the relationship that exists between Sula and Nel. Although they appear to be best friends through much of the novel, they betray one another. Sula sleeps with Nel's husband, causing the break-up of the family; Nel, in her goodness, judges Sula to be evil and unworthy, refusing to help her friend put her guilt behind her. If the two women had truly acted as faithful friends, some of the tragedy of the story could have been avoided.



MOOD

Although the novel has a very serious message and theme, the mood of the book is very varied -- sometimes playful, sometimes serious, often reverent, and occasionally sarcastic. The story is told from the point of view of a wise narrator, who is amongst the characters, celebrating their lives in a positive way. Although the details of the story are sometimes sad or upsetting, the narrative voice always gives the benefit of the doubt and tries to find the good in a situation or at least be objective.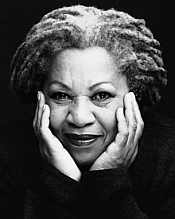 Toni Morrison
Toni Morrison - BIOGRAPHY

Toni Morrison is currently one of the most celebrated U.S. authors, having gained increasing attention since the publication of her first novel, The Bluest Eye, in 1970. Her place in international arts and letters was firmly established after she was awarded the Pulitzer Prize for Beloved in 1988 and the Nobel Prize for Literature in 1993. She has now been an important voice in American literature for nearly thirty years.
Toni Morrison was born as Chloe Wofford on February 18, 1931, in Lorain, Ohio, near Cleveland. She was the second of four children of southern parents, George and Ramah, who had moved north to escape the racial discrimination of Georgia. Growing up in a culturally diverse neighborhood, she felt little racism. Although poor, her father had a regular job in the shipyards, and her mother stayed home to raise and nurture the children. She passed on to them strong religious values and her family's love of music. She also emphasized education, and Chloe was a good student. She attended Lorain High School and graduated at the top of her class. In 1949, she went to Washington D.C. to attend Howard University, where she studied the Classics and changed her name from Chloe to Toni. To help pay for Toni's education, her father worked three jobs. After graduation, she attended Cornell and received an M.A. in English. After teaching briefly at Texas Southern University in Houston, she returned to Howard University in 1957 to serve on its faculty for eight years. During this time, Toni married, had two sons, traveled in Europe, and divorced her husband. She also became a textbook editor for Random House, helped many African-American writers begin their publishing careers, and began her own writing career.
In 1970, her first novel The Bluest Eye was published under the name of Toni Morrison. Sula followed in 1973. Several other novels followed in quick succession: Song of Solomon (1977), Tar Baby (1981), Beloved (1987), Jazz (1992), and Paradise (1998). She has also written several plays and song cycles. Additionally her book of literary criticism, titled Playing in the Dark: Whiteness and the Literary Imagination, was published in 1992.
Besides being a popular novelist, Toni Morrison has won almost every major literary award and honor, including the National Book Award, the Pulitzer Prize, the Chianti Ruffino Antico Fattore International Award in Literature, and the Nobel Prize. She has also been recognized by numerous national and international literary organizations and served on several public commissions governing the arts and education. She has also been give fourteen honorary degrees.
In 1984, Toni left her publishing job to fully devote her time to writing and teaching. She has been part of the faculty of several universities, including Yale and Princeton. Her writing has been judged as an important contribution to the arts of our time. She has also been recognized as a brilliant commentator on social issues, especially those concerning racism, class structure, and sexism in America.



LITERARY/HISTORICAL INFORMATION

Sula is considered by many critics to be Toni Morrison's best book. Although it has not won the number of awards that some of her later books have earned, it is noted for its plain structure, sparkling language, and intense investigation of human questions--much like her other books, but with a simplicity and blunt reality all its own. Sula has been compared to Zora Neal Hurston's Their Eyes Were Watching God and was, indeed, published not long after that book enjoyed a resurrection in the early 1970s. Morrison's style, filled with figurative language, has similarities to Hurston's style.
As Morrison's works become more and more popular (many of her books have been best sellers and won her the highest literary honors), more critical analysis is being done on them. She is studied from the Black perspective and the feminist perspective. In Sula she portrays two Black women with very different outlooks about themselves and life. While Sula judges her life as "wrong," Nel believes that she herself is the picture of goodness and propriety. Within their own perceptions, they each make choices and do the best they can, continuing to change and test their affections for each other and the people around them. As a chronicle of the lives of Black women from small mid-western towns in the first half of the century, the book has no equal. As a chronicle of the human heart, it is sympathetic and honest.
Many of Morrison's books are historical and usually cover a span of time that includes the history of a person's life, as in Sula. They are usually not easy stories with "happy" endings. Instead, her books chart lives as they are really led and celebrate the true human moments of triumph and realization. In this sense, Morrison's stories are honest and "true," and are guaranteed a distinguished placement not only in the history of African-American literature, but in American literature as a whole.



Previous Page | Table of Contents | Next Page
Downloadable / Printable Version

Sula by Toni Morrison: Free BookNotes Summary