Free Study Guide for Song of Solomon by Toni Morrison
Previous Page | Table of Contents | Next Page
Downloadable / Printable Version



SONG OF SOLOMON: FREE LITERATURE NOTES / PLOT SYNOPSIS


THEMES


Main Theme

The main theme of Song of Solomon is the rootlessness of African Americans who live in northern cities. A search for family means a journey south. A search for family means a search for connection, identity, and history.


Minor Theme

The minor theme of the novel is the damaged family relations which result from the effects of racism--the overt racism of land-grabbing and murdering and the subtle racism of internalized oppression. Milkmanís parents manifest the effects of these two kinds of racism in their dysfunctional relationships with each other and their children.



MOOD

The mood of Song of Solomon is one of commemoration. It is a commemoration of the past, of ancestors, but that mood is interrupted in the present-day setting, in the protagonistís generation, by a mood of restlessness and rootlessness. The two moods of the novel intertwine and play against one another until the protagonist finds the value for himself, for his present life, in learning about his ancestorsí struggles.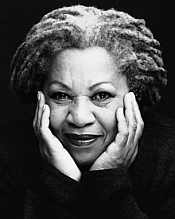 Toni Morrison
Toni Morrison - BIOGRAPHY

Toni Morrison was born with the name of Chloe Anthony Wofford. She was born and grew up in Lorain, Ohio, a town outside of Cleveland. She graduated from Howard University with a bachelorís degree in 1953 and then went on to graduate school at Cornell University, where she earned a masterís degree in 1955. She taught at Texas Southern University in Houston, Texas for two years and then in 1957 she returned to Howard University where she taught until 1964. While teaching at Howard, she married Harold Morrison and began to write fiction. She became an editor for Random House in 1964, eventually becoming senior editor there. At present, she is Robert F. Goheen Professor, Council of the Humanities, at Princeton University.
Morrisonís first novel The Bluest Eye (1969) explores the issues of internalized racism, the internalization of the European standard of beauty by African Americans who begin to believe that they are not beautiful when they look different from that standard. Then she published Sula in 1973, nominated for the 1975 National Book Award. Song of Solomon (1977) won the National Book Critics Circle Award. Her novel Tar Baby of 1981 was followed by her great work Beloved (1988) which won the Pulitzer Prize for fiction. Her next novel Jazz (1992) was written in the same year she published a book of literary criticism, Playing in the Dark: Whiteness and the Literary Imagination, which explored the central role images of African Americans have played in writing by European American writers. In 1993, Toni Morrison received the Nobel Prize for Literature, the first African-American writer to receive this honor. She has since written another novel Paradise and her novel Beloved has been produced as a film.



LITERARY / HISTORICAL INFORMATION
Toni Morrison combines in her literary vision a seamless use of European-American literary history and a vivid incorporation of African-American folk history. Morrison calls her literary technique in Song of Solomon as "the imaginative combination of the real world, the very shrewd , practical, day-to-day functioning that black people must do, while at the same time encompassing some great supernatural event." In Song of Solomon, Morrison makes reference to one European fairy tale after another, Hansel and Gretel being one of the most memorable, as Milkman enters the dilapidated Butler mansion and sees Circe, the ancient woman who served as midwife to all the community of Danville from the time of slavery. Here, Morrison combines the ancient Greek myth of Circe, the goddess of Homerís The Odyssey, who detains Odysseus on his journey and turns his men into swine, with Grimmís many witches in his Germanic fairy tales. The figure invested with so much European and Greek weightiness is an old African-American woman who has decided to sacrifice her life to fulfill her desire to see the wealth of the arrogant, ruthless, white aristocratic family for whom she worked turn to dust and ruin before she dies.
In Song of Solomon, Morrison largely departs from her usual experimental style of narration to write a fairly straightforward tale of a manís search for family origins. She does, however, employ some interesting strategies for making this tale make sense in communal and familial terms. Morrison begins the novel at the birth of Macon "Milkman" Dead. Then she proceeds with a fairly strict chronological telling of his life. Morrisonís departure from the singular focus on the protagonist is to leave him at moments to detail the lives of the people around him, especially the women around him, his mother, Pilate, Hagar, and his sister Corinthians. In giving the points of view of these women, Morrison ensures that the reader see Milkman from a distance. His boredom with life and his sense of injury at the habit his parents have of laying stories of their past on him with the accompanying weight of obligation and guilt is viewed with some distance when taken in the context of his social world.
Unlike Milkman who has lived his life as a sort of prince of the family, free to go where he wants, not even pushed to make something of himself, his sisters are circumscribed inside the home by the standards of respectability and class arrogance. His mother suffers under the tyranny of the cold shoulder her husband has been aiming her way for twenty years, provoking him to violence in order to get any kind of rise out of him. His aunt has lived a full life, but an isolated one because she has been born with the impossible physical characteristic of having no navel. In decentering her protagonist even as she maps his progress, Morrison shows that the agonized young man of her tale is also in need of some lessons in caring about others than himself.



Previous Page | Table of Contents | Next Page
Downloadable / Printable Version

Song of Solomon by Toni Morrison: Free BookNotes Summary