Free Study Guide for The Fixer by Bernard Malamud
Previous Page | Table of Contents | Next Page
Downloadable / Printable Version



FREE BOOKNOTES - THE FIXER BY BERNARD MALAMUD


THEMES


Freedom
Bernard Malamud explores the true meaning of freedom in this book. When Yakov Bok manages to resist confessing to a crime that he did not commit in order to get out of jail, he is freer than he was in the shtetl.


Responsibility
Another theme of this book is responsibility, which balances freedom.


Manís inhumanity to man
In this story we repeatedly see the darker side of human nature.



MOOD
The mood of The Fixer is somber.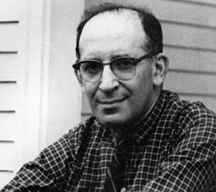 Bernard Malamud
Bernard Malamud - BIOGRAPHY
Bernard Malamud was born on April 26, 1914 and grew up in Brooklyn, New York. His father, Max, operated a grocery store. His parents were Jewish immigrants.
He attended Erasmus Hall High School, where he later taught night classes. His education continued at City College of New York where he graduated in 1936. He received a Master's degree at Columbia University in 1942. Malamud changed from student to teacher, at Erasmus Hall High School and Harlem High School from 1940-1949. His writing career started during this time.
Malamud's dual careers, teacher and writer, continued at Oregon State (1949-61), then at Bennington College (1961-66, 1968-86).
The author's first novel, The Natural, was very successful critically. It was also successful on a different level, being made into a Hollywood movie starring Robert Redford.
In addition to novels, Malamud also wrote short stories. One early collection was The Magic Barrel.
His second novel, The Assistant, was published in 1957. This was followed by A New Life, which is set on an Oregon college campus. While not taken directly from his experience at Oregon State, we can feel confident that it was enriched and influenced by it, just as it is understandable that The Assistant was enriched and influenced by the author's early life in Brooklyn.
A New Life was followed by the book we are currently reviewing, The Fixer, and then by The Tenants.
He married Ann de Chiara in 1945, and they had a son and daughter, Paul and Janna.
He was honored with many awards during his career, including: The Pulitzer Prize, Gold Medal of the American Academy and Institute of Arts and Letters, and two National Book Awards.
Bernard Malamud died of a heart attack at the age of 71 on March 18, 1986 in New York City.



LITERARY / HISTORICAL INFORMATION
Bernard Malamud was influenced by what he heard about Mendel Beilis, a man similar to Yakov in a situation similar to Yakovís plight. His story also took place in Ukraine around 1911 to 1913. The Fixer should certainly not be considered factual in every detail. Malamud did not mean for The Fixer to be a telling of Mendel Beilisí life. There were differences between Yakov and Mendel Beilis. But, in their innocence, in the reasons behind the accusations hurled at them, and in the time and locale of their stories, they were alike.
Previous Page | Table of Contents | Next Page
Downloadable / Printable Version

The Fixer by Bernard Malamud-Free BookNotes Summary